How to Create Winning Content for Every Stage of the Marketing Funnel
Content marketing is a key component that fuels the growth of businesses of all sizes. It has largely become an online competition, with more and more consumers turning to the internet for practically everything. The numbers reveal that businesses get higher chances of boosting traffic and generating conversions when they create content around topics that are relevant to their target markets.
As such, nearly 88% of B2B marketers are saying that their organizations are creating personalized content. While content marketing takes a lot of time, patience, and effort, digital marketers are relying on it to gain customer attention because the rewards are far greater in the long run: Content marketing can increase website conversations by six times more than traditional marketing methods. 
Creating content is one thing, but getting it to work for your bottom line is something else. Often, digital marketers neglect that it's not simply about creating more content and distributing it. The challenge is to come up with content that provides value to your target audience and establishes your brand as an authority in your industry.
For your content to bring in results, you must align it with your bigger marketing strategy. You'll need to build a clear content marketing strategy that ties in with your branding and goals. This requires you to look deeper into the steps that a potential client has to go through while digesting your content and how that process works to convert that potential client into a paying customer and a brand advocate. 
In other words, you'll need to craft content for every stage of the marketing funnel – the perfect path to customer acquisition. 
Marketing Funnel: The Basics of the Buyer's Journey
You can use content to your advantage by making sure that it takes potential customers on an exciting journey through your sales cycle, and that it maximizes every opportunity to turn that potential client into a paying customer, a repeat customer, and a referring customer. This is where an effective marketing funnel comes into play.
The content marketing funnel is a system designed to attract leads to your business and eventually convert them into actual customers who pay for your products or services. It's a step-by-step content flow that takes into consideration the different stages a customer goes through leading up to their purchase. 
Whatever stage of the funnel you're creating content for, you'll need to figure out who you are talking to. This brings us to the Buyer Persona, or the representation of your ideal customer. Persona research is very important because it helps you understand your target audience's biggest problems, their preferences, how they become aware of new content to read, and the different types of content they are into. With the right persona, you'll be able to create a highly targeted content marketing strategy with powerful content that supports your audience's journey. 
An important insight to note is that every piece of content you publish has a role to play. At any given time, your prospective customers are all at different points in their journeys toward a purchase. It's important to create winning content for every stage of the funnel.
Top of the Funnel: Awareness
The top of the funnel is where you want to grab your audience's attention by making a memorable first impression, and more importantly, addressing their problems.  At this stage, your prospects have just identified an issue or concern and is about to research ways on how to remedy them. You will want to create content that aims to educate your audience on how to solve their specific problems.
The goal here is to generate interest by delivering content that matches what your potential clients are searching for online−resources that address their needs. By creating content that is valuable to your potential clients, you are also nurturing your prospects' trust towards your brand.
Middle of the Funnel: Evaluation
At this point, you've already gained the attention of your audience. Now that people are aware that your brand has the knowledge and expertise pertaining to your problem, your next challenge is to convince them consider your solutions. It is here where you can maximize opportunities to build trust and ensure your audiences are engaged enough to consider making a purchase.
Just because your potential clients know what you can do and how you can help them doesn't mean they will choose you. At this stage, they are still looking for more information to determine whether or not your product or service is a good fit for them. You'll need to differentiate yourself from your competitors and demonstrate that you're the best brand for the job. By offering more valuable content, you can help potential customers discover why they should choose you. 
Bottom of the Funnel: Purchase
Your prospects are finally ready to make that purchase. At this stage, you'll need to give them that extra push with the focused content that will convince them that your brand is worth the investment. 
It is at this stage where your products and services take center stage, but you can do more than just sell all the features of your brand. A good practice is to frame your product or service in a way that it focuses on the solution to a problem. This way, your audience will view your brand as a part of a cohesive picture, and your content will entice them to renew and expand in the long run.
How to Map Content to Your Marketing Funnel
Attracting Leads: Educate and Go Viral
To attract leads, you'll need to continuously publish useful, informative content for your target audience so they can keep your brand on top, and in the back of their minds. Sharing amazing information on your blog is key to winning your customers' trust.
High-value content like blog posts, ebooks, newsletters, and whitepapers can continually bring in new traffic as well as improve your organic search engine optimization (SEO) results. It also offers a great opportunity to show off your personality and converse with new prospects and past customers.
You don't have to limit yourself to written content. Build a social media presence through shareable content like videos, infographic, games, comprehensive guides and more to have a strong chance of going viral.
Keep in mind that your goal here is not so much to hard-sell but to get your audience curious about your brand. Make them want to learn more and draw them further into your marketing funnel.
A key tactic is to keep it simple and straightforward so that prospects can be quickly guided to where they would be most interested in going. A good example is this article by HubSpot that helps the target audience understand what lead scoring is and how to calculate a basic lead score. The article offers the solution for potential clients who are interested to know more about lead scoring.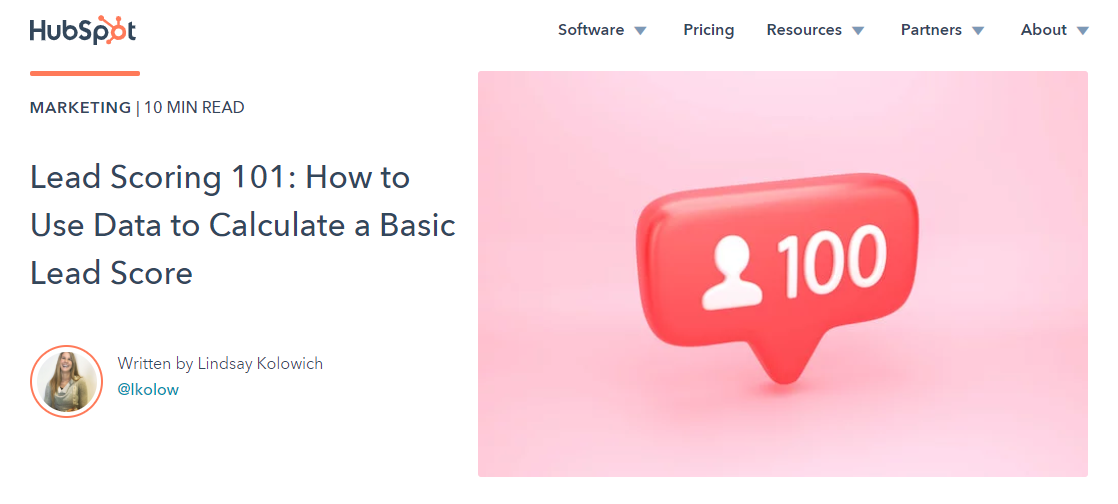 These helpful blog posts from Crazy Egg also does a great job at engaging their audiences by keeping their copy clear and their visuals strong. 

Instapage, meanwhile, is also popular for its snackable videos that educate audiences about marketing and landing page conversion optimization.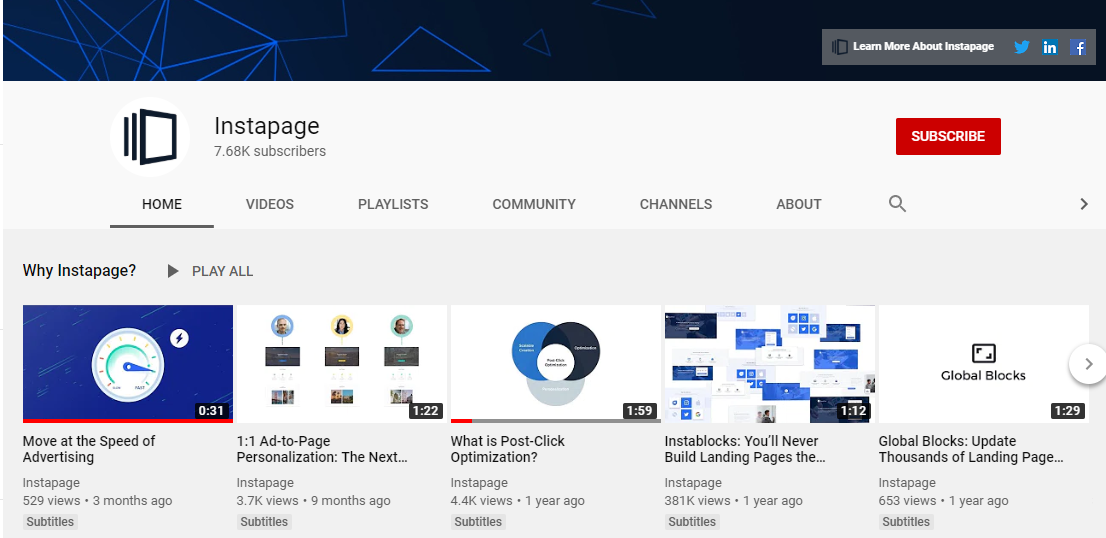 The content marketing metrics you can use to assess if your content for the awareness stage is working include total shares, views, time on page, scroll depth, and bounce rate.
Building Momentum for Consideration: Stand Out and Be an Authority
You need to get your engaged audiences to keep thinking about your products and services. At this stage, your prospects are evaluating whether or not your solutions are a good fit for their needs. This is the time to show them that you are an expert in your industry and you offer something that differentiates you from your competitors.
Email marketing plays a key role here, as it drives reliable website traffic. In fact, 81% of small and medium businesses rely on email marketing as their primary customer acquisition channel. Other effective types of content in the evaluation stage include demo videos, expert guides, webinars, live interactions, and whitepapers that compare your features and benefits with that of your competitors.
One example of a good ebook offering is this one by Flywheel. The ebook on recurring revenue is featured on a landing page. The strategy is very catchy and simple, and easily earns the audience's email address to nurture leads.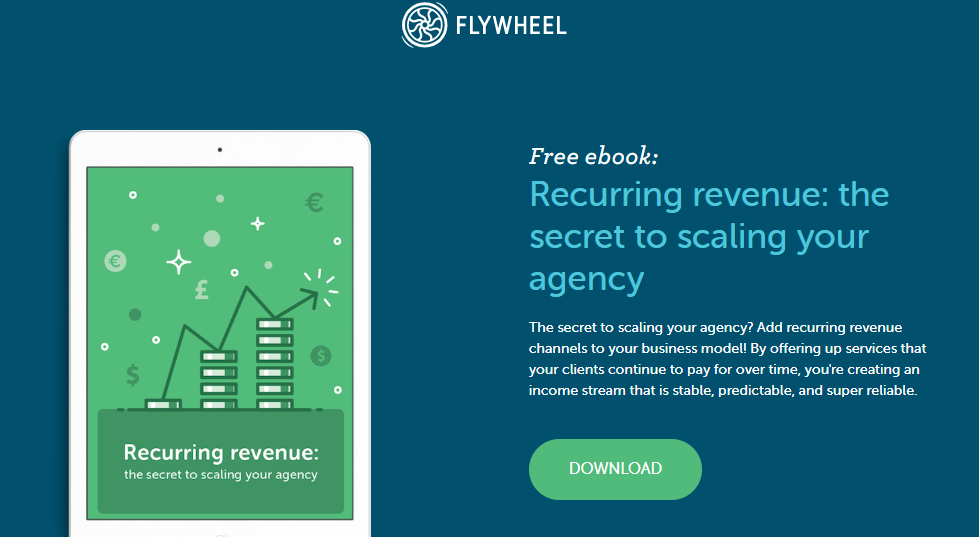 This demo video from Wufoo is also pretty simple and straightforward in educating potential customers about what the application looks like and what it does.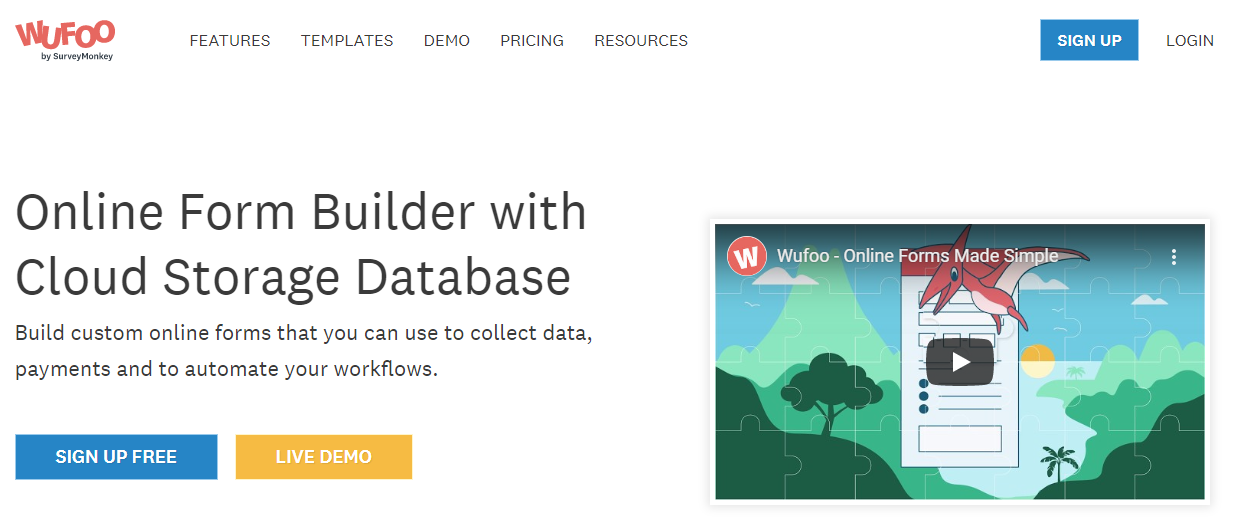 Zendesk, meanwhile, regularly holds live webinars to showcase its powerful functionality and interactive content that include commentary and expert contributors.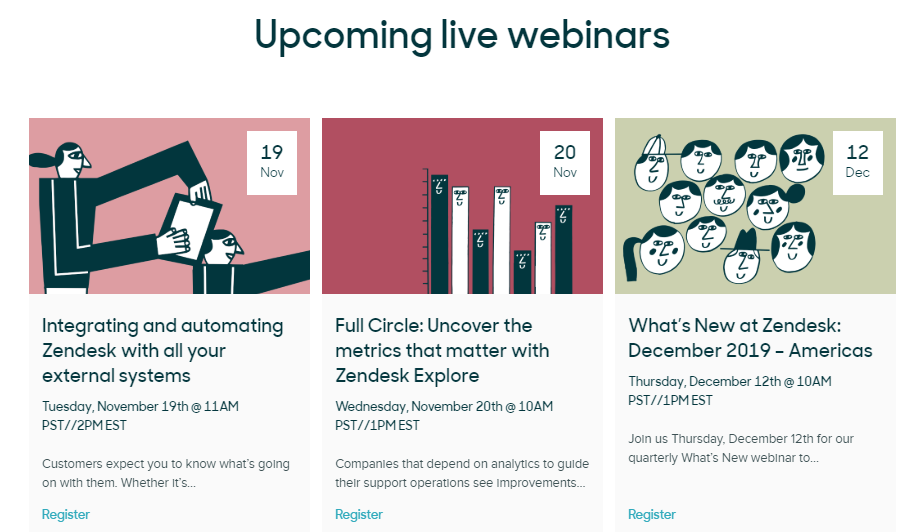 Content marketing metrics at this stage involves measuring the percentage of people entering the conversion stage.
The Purchase: Effective Call-to-Actions that Seal the Deal
At this stage, you need to give your audiences the most personalized, persuasive content. Here, you need to ensure that the potential client is taken through the proper sales page that shows the benefits of your products and services. The checkout experience should also be smooth and easy with no room for confusion.
You can also maximize every opportunity to remove doubt through customer testimonials that highlight how others have benefitted from your products and services. There's nothing like an authentic review to drive your message home. Providing a clear, motivating call-to-action is also essential for a successful customer conversion. Give them a compelling reason to buy right now. 
Content examples that provide high value content for the purchase stage include testimonials, audit, free trial, reviews, coupons, and offers. 
A good example is this inviting, 2-minute video by Grasshopper that explains it services while highlighting the testimonials of three small businesses that have improved their communication systems because of its products.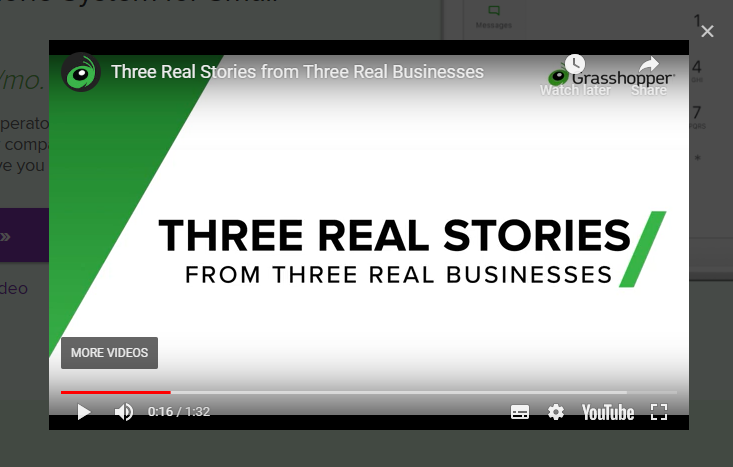 Meanwhile, Amazon continues to wow its audiences with the power of a free trial. The exciting offers and freebies that include live streaming, free digital book downloads, and Prime shipping make it hard for potential customers to let go of the services.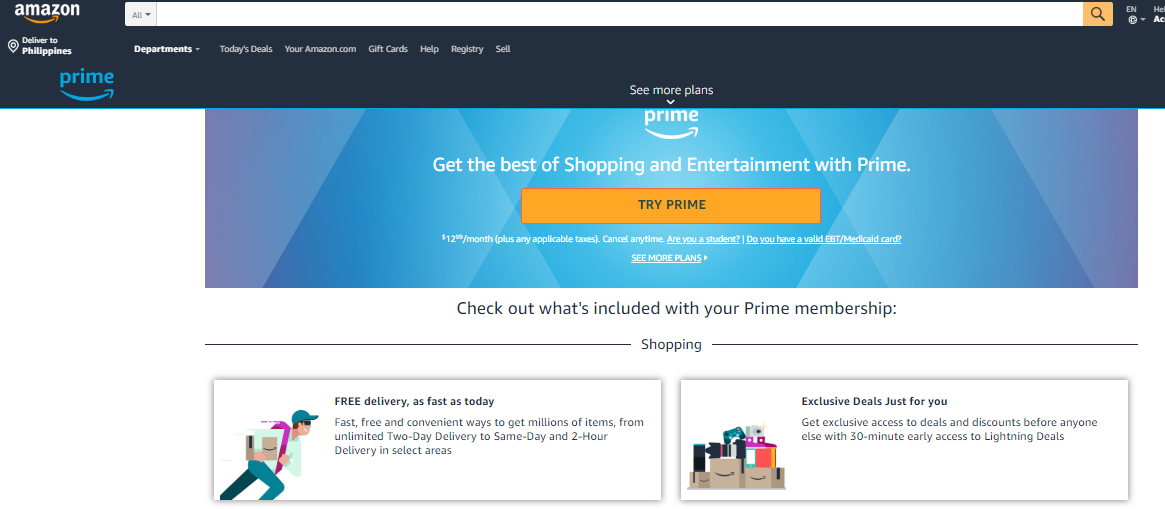 Another example from Basecamp shows how brands can talk to customers on a more natural, real level. The brand's overall design emphasizes testimonials presented in a unique way and showcases their product in action.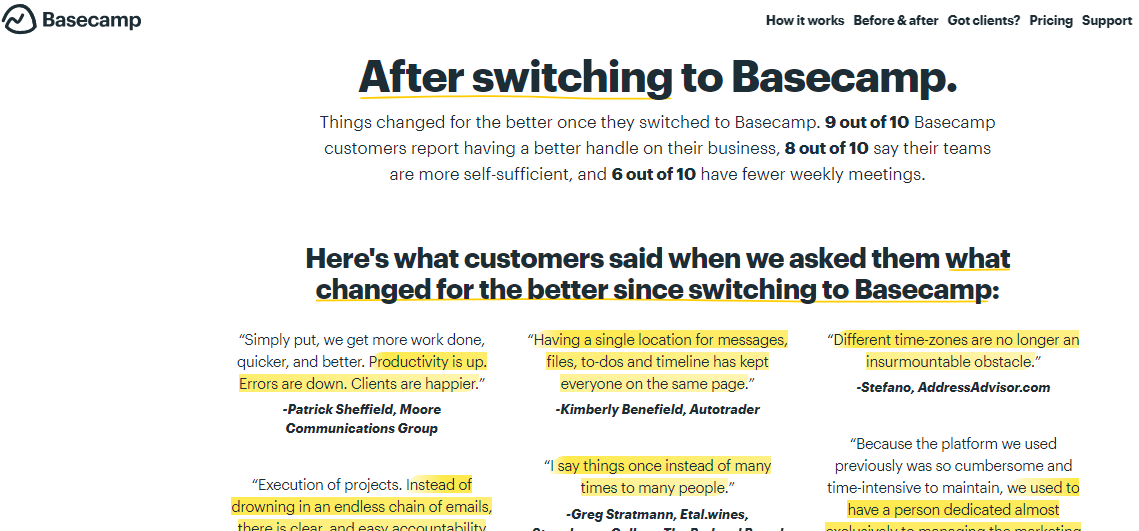 Content marketing metrics at this stage involves determining if people enter the conversion process and whether or not they pushed through with purchasing your products or services.
Start Creating Winning Content for Every Stage of the Funnel
When crafting content, it helps to put yourself in your potential customers' shoes. If you were looking for solutions and helpful content, what would you want to consume? Delivering exceptional content requires an extensive trial and error process. Test a variety of strategies to see which options work best and always refine your approach.  Specific types of content might work better for lead generation or instant sales while others might work best for improving follower growth.
Invest in effective ways to understand your audience so that you can identify opportunities for growth. The ultimate goal is to gain a persistent, engaged audience through storytelling and brand building. With the right content marketing tactics, your brand will not only see a surge in website traffic but also an increase in user engagement and conversion rates.